Vegetables and vegetable flavours
Regular price
Sale price
CHF 9.35
Unit price
per
Sale
Sold out
Seitan is a protein-rich, meaty product made from lentils.(in our recipe) and wheat proteins, then flavored with a blend of herbs.
It originated in China and Japan, where it was mainly consumed by Buddhist monks. It has since become an everyday food for millions of people.

Our official seitan supplier is Renski (www.renski.ch), a friend of the house who also offers high-quality products.


Vegan
 
 
 
 
 
Allergens
 
 
Gluten, Soy, Sulfites
 
 
 
 
Ingredients
%
Origins
Plain seitan
39%
Switzerland
Orange carrot
21%
Switzerland
Shallot
11%
Switzerland
Water
7%
Switzerland
Beet
4%
Switzerland
Red wine
4%
Switzerland
Tomato
4%
Morocco
Soy sauce
4%
Netherlands
Kohlrabi
4%
Switzerland
White sugar
2%
Switzerland
Miso
1%
Japan
White Salt
1%
Switzerland
White pepper
< 1%
France
Parsley
< 1%
Switzerland
Chervil
< 1%
Switzerland


Macronutrients
140g
 
Calories
187kcal
 
Fat
6g
 
- Saturated fatty acids
2g
 
Carbohydrates
12g
 
- Sugars
7g
 
Protein
16g
 
Dietary fibre
5g
 
Salt
3g
 
 
 
 
Micro-nutrients
140g
 
Calcium
46mg
 
Copper
0mg
 
Iron
1mg
 
Magnesium
33mg
 
Potassium
328mg
 
Zinc
1mg
 
Omega 3
0mg
 
Vitamin A
1 143µg
 
Vitamin C
5mg
 
Share
View full details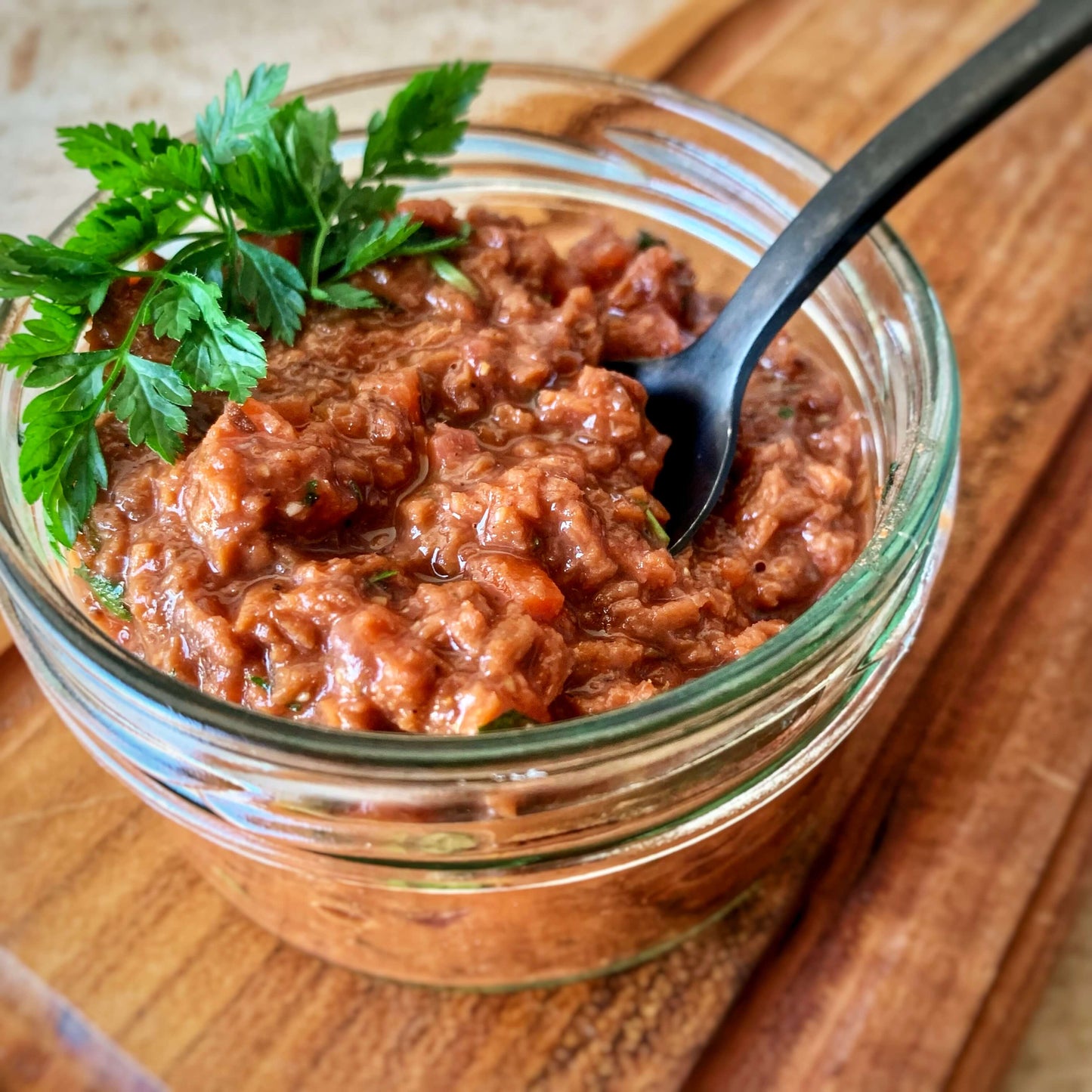 Frequently asked questions
Will I have enough to eat?

Simple answer: yes!

Our main dishes weight on average 425g for 450-500k calories, which represents an excellent weight/energy ratio.

If you wish to add a little something to your meal, and in the interest of a balanced diet, choose a seasonal fruit and a yogurt (plant-based?).
How can I reheat my meals?

In the pan
3-4 minutes over medium heat

In the ,icrowave
3 to 5 minutes
(depending on your appliance - pour the ingredients into a suitable dish beforehand)

We also recommend reheating some dishes in a conventional oven (15 min. at 180°C) or bain-marie (8-10 min.), as indicated on the label whenever relevant.
How are the dishes packed?

To preserve their organoleptic and nutritional qualities, dishes are packed in jars or vacuum bags (maximum 2 bags per dish). They are then delivered fresh in isothermal cartons. Freshness guaranteed on arrival!

Don't forget to refrigerate!
Where do you deliver ?

All over Switzerland !

Your meals are delivered via the Post Office (or any other carrier, on a case-by-case basis), to the address of your choice (office, home, etc.).
When will I be delivered?

You can choose the delivery date that suits you best at the checkout stage of your shopping cart.

Orders placed from Monday to Friday
=> D+1 delivery available

Orders placed from Saturday to Sunday
=> Delivery from Tuesday of the following week

In case of absence, your parcels will be left in front of your door (the isothermal packaging will allow them to remain fresh until your return the same day).

Don't forget, your dishes can be kept in the refrigerator2 to 4 weeks after reception !
You will have plenty of time to enjoy them!
Can I pick up my packages directly on site?

Yes, absolutely!

All you have to do is select the "Pick up" option at the shopping cart validation stage, choose the date and time slot that suits you, then click again on "Pick up on site" at the next stage.

Further instructions will then be sent to you via the order confirmation e-mail you will receive afterwards.